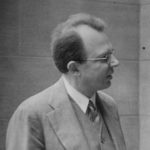 I am currently thinking about the differences between Carnap and Quine, and about the connections between the philosophy of mathematics and metaethics.
Publications
Recent Talks
upcoming: Quine's Empiricist Platonism. SSHAP 2021, Vienna.
2021: Carnapian Explication and the Limits of Voluntarism. Logik Café, Vienna.
2020: Quine on Ontology and the Primacy of Truth. Serious Metaphysics Group, Cambridge.
2019: Carnap's Defence of Abstract Objects. Abstract Objects and Circularity Workshop, Munich; 3rd TiLPS History of Analytic Philosophy Workshop, Tilburg; Moral Sciences Club, Cambridge; 23rd Annual Graduate Philosophy Conference, Oxford.
2019: Carnap's Internal Platonism. Serious Metaphysics Group, Cambridge; Modal Metaphysics: Issues on the (Im)Possible VII, Bratislava.
2018: Easy Ontology and Categorical Quantification. The 7th International Philosophy Graduate Conference, CEU Budapest; The 2018 Joint Session, Oxford
[Credit for picture of Carnap: University of Chicago Photographic Archive, apf1-01559, Special Collections Research Center, University of Chicago Library].